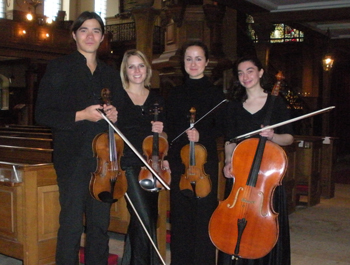 The Cornwallis String Quartet was formed in September 2011, and is mainly composed of postgraduate scholarship students at the Trinity Laban Conservatoire of Music & Dance, as well as one graduate of the Royal Northern College of Music.
Although quite a newly established quartet, they have already given a very successful performance in Greenwich of one of the early Beethoven String Quartets: Op. 18 no. 3 in D Major and hope to work on more of the Beethoven String Quartet repertoire in future.
Although some of the members of the quartet are currently working towards careers in orchestral playing, the skills needed to be able to play chamber music are of a very different kind, and having these skills forms an essential but very enjoyable part of being a well-rounded musician. The members of the Cornwallis Quartet all agree that a career in chamber music would be the ultimate ideal for a Classical musician, and having already formed a quartet made up of quality players is a big step in that direction. The quartet gains inspiration from such exceptional and influential groups as the Vermeer Quartet, Amadeus Quartet and Hagen Quartet.
Charmian Keay violin I Maria Mazzarini violin II, Joe Ichinose viola and Carolyn Rosinsky cello
Listen to the Cornwallis String Quartet playing extracts from the Andante con moto and the Allegro (3rd movt.) from Beethoven's Op.18 n° 3 String Quartet;
Andante con moto mp3
Allegro (3rd movt.) mp3
Rress Release:
18th March 2012
TRINITY MUSIC SCHOLARS' STRING QUARTET WORKING HARD TOWARDS UPCOMING RECITAL
The Cornwallis String Quartet, despite still being in the fairly early stages of existence having been formed in September 2011, definitely makes up for its youthfulness in a combined love of making music together and of all the amazing string quartet repertoire which is on offer. In fact, this actually makes it particularly hard for them to make a decision when it comes to choosing their next quartet to work on!
The quartet is made up of three current postgraduate scholarship students at the Trinity Laban Conservatoire of Music & Dance, where the quartet first met, and one graduate of the Royal Northern College of Music.
The Cornwallis String Quartet is very much an international one, the members are from literally all four corners of the world: New Zealand, Italy, USA and England/Japan. In terms of playing style, all of the members have similar musical ideals, making it easy to create a cohesive, well-balanced sound with all the subtle nuances that are required in any chamber music collaboration.
One interest that all of the members share is that of playing the extensive Beethoven string quartet repertoire. The first quartet that the group set out to learn and perform was Beethoven's String Quartet Op. 18 no. 3 in D Major which was played very successfully in a lunchtime recital at St Alfeges in Greenwich in February 2012.
The Cornwallis String Quartet has been enjoying working together very much and are looking forward to their upcoming April concert, which will be their first full recital (other performances so far having been smaller combined recitals), and this will be a lunchtime recital at Blackheath Halls (located just beside the sprawling, idyllic Greenwich Royal Park). The recital will include more Beethoven, as well as the Schubert String Quartet no. 13 'Rosamunde'. This will definitely be a concert to remember. All of the members of the quartet agree that they hold the portrayal of the music itself as being of first and foremost importance, and this is absolutely crucial when playing Beethoven, so the aim is always to never allow their own opinions or technical issues to distort the essence of the music in any way. With these ideals in mind, the Quartet hopes to soon start working on some of the more challenging repertoire in the genre, including of course (when they've got a little more time together under their belts), the late Beethoven quartets.